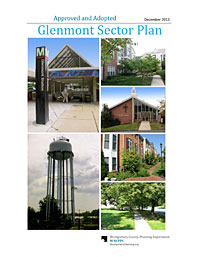 Cover of the recently published Glenmont Sector Plan
This past month, the Glenmont Sector Plan was approved as well as the Glenmont Sector Plan Design Guidelines--both are now available online. Note that MCDOT's work program consists of constructing and then maintaining transportation infrastructure specified in various master and sector plans covering all portiothe county.
The County Department of General Services was successful in obtaining assistance for the Glenmont Shopping Center from the Urban Land Institute-Council of Government Technical Assistance Panel Program. The program will evaluate the challenges of redeveloping the Glenmont Shopping Center and suggest strategies to implement the vision of the Sector Plan. The shopping center is located close to the planned Randolph Road-Georgia Avenue interchange project. See below.
Glenmont Fire Station 18: The interim fire station opened on April 3, 2014 and the old station has been turned over to the Maryland State Highway Administration for construction of the Randolph Road-Georgia Avenue interchange. The permanent station is currently under design with expected construction to start fall 2014.
(Source: "Your Mid-County," Mid-County Regional Service Center eNewsletter, May 9, 2014.)