Wednesday, June 08, 2011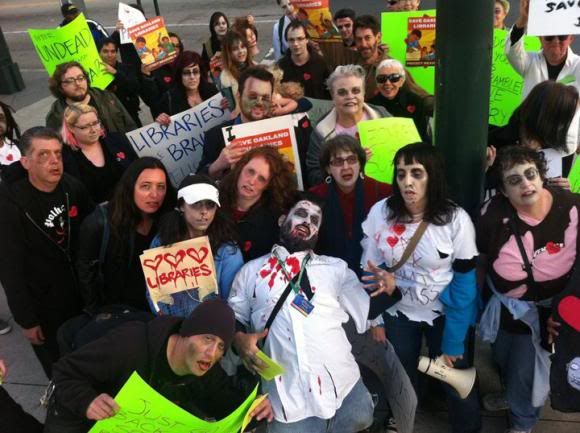 The big disease in the news right now is caused by E. coli and a great place to find information about these virulent organisms is on the site of the Center for Disease Control. But as the weather heats up, another scourge is on the rise. A hideous alilment that infects humans and turns them into...ZOMBIES. And, you know what? The CDC has a page for zombies, too. Preparedness 101: Zombie Apocalypse.
It's a joke, right? Or is it?

But if it's true, zombies needn't interfere with you using the library as is shown in Library of the Living Dead: Your Guide to Miller Library at McPherson College, a wonderful intruction manual in comic book format.
"We want you to view the library in a different way...It's a place that can literally save your day, whether you need to find that one bit of crucial information for your research or you find yourself trapped by a hoard of flesh-eating zombies."
The University of Florida also uses zombies to teach students how to use the campus libraries
by way of their Zombie Survival LibGuide, complete with helpful videos.
"In preparation for Zombie infections which may affect UF campus services, this guide shows how library services can be accessed remotely. It also provides pathways for researching survival skills."

Zombies like libraries, though. I mean, zombies eat brains. And where do you find the highest quality brains? In libraries, of course. Zombies create zombie websites in support of libraries and zombies across the country are protesting the closing of public libraries--in Oakland, CA, Charlotte, SC and New York City .


So, be prepared--read up on zombies. Librarians are in your local library ready to help you, or take the advice of Jeanne Bogino in her Library Journal column, "Devour Books, Not People: A Librarian picks the Best Zombie Lit." The article includes clips of feaure movies for you to watch. Or read reviews of zombie fiction on the Monster Librarian web page. Pick up your books at the library and take them home to read in your zombie-proof house.
Annette
CATEGORIES:
Libraries
,
Annette K.
,
Zombies
POSTED AT: 6:05:00 AM |