Wednesday, July 06, 2011
A BOOK of Verses underneath the Bough,
A Jug of Wine, a Loaf of Bread—and Thou
Beside me singing in the Wilderness—
O, Wilderness were Paradise enow!
Sounds like an invitation to a picnic to me!
What do we need for a picnic? Food, an outdoor place in which to eat, and good company! Amusements, activities and ants are extra.
Originally, a picnic was a communal meal to which everyone contributed... what we today would call a potluck. Try The Garden Entertaining Cookbook for inspiration and whip up a batch of Basmati Rice Salad with Fresh Peas, Corn and Chives (page 100) to go with anyone else's main dish.
Where shall we eat? Especially with children, a short trip to a new a different (but not too different) place is fun and exciting. There are lots of free picnic locations in local parks and many of them have sports or other amusements for the family.
Why don't you read Click, Clack, Quackity-Quack to the youngest children before you go? You can make a game of finding things from the book at your picnic destination. And if the neighborhood is devoid of blankets, ducks, eggs, goats and hens, you can always make your own alphabetical list of facinating objects sighted.
But what about that book of verse? Omar Khayyam is classic, but he doesn't suit every occasion. Choose Books and Authors from our Reading & Literature resources and you can zero in on just the kind of rhyme (or free verse) that touches you.
And if Omar is your cup of tea, you can always download the "Rubaiyat" to your e-reader from Project Gutenberg.
What's left? Ants, of course! The kids will be facinated by Pestworld's take on ants.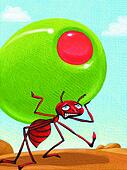 Or, if it rains, pop in the classic movie "Picnic" or, for the kids, try this one!
Have a great summer!
Jan D.