Wednesday, September 21, 2011
This was an excellent summer for tomatoes on the farm. This year, I scaled back on the variety of items in the garden and just put in tomatoes, peppers and cutting flowers. It's very exciting when the first little greenies begin to swell and ripen, but later I found myself inundated with many, many ripe red globes begging to be put to some use.
We ate a lot of fresh tomatoes and made gallons of fresh salsa using the jalapenos and the green peppers. The flowers came inside to brighten up spots all around the house. Although I planned to can tomato sauce, or marinated peppers, I just never got around to it. There's always next year, and here are some great resources for the home canner.
Canning and preserving home grown fruits and vegetables is becoming more and more popular as the locavore movement spreads. People may have small plots in their yards or even on their patio or deck. Here a few resources to help you realize a greater return from your gardening investment.
"Well Preserved" by Eugenia Bone is a collection of 30 small batch preserving recipes and 90 recipes in which to use the foods. In addition to canning, the book shows how to use methods like oil preserving and curing.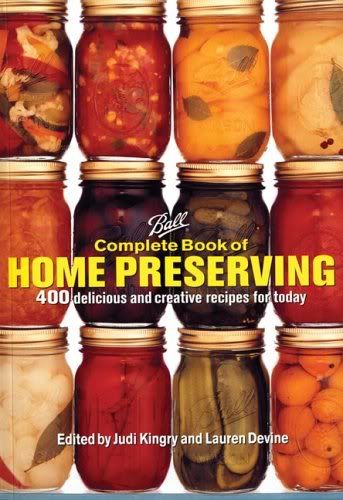 "Complete Book of Home Preserving" by Judi Kingry comes from Ball Home Canning Products, and is considered the canning bible for both beginners and experts. Over 400 recipes will give you just about everything you need to know to make full use of your homegrown fruits and veggies.
If you are more of a visual learner, the library also offers a DVD called "The Art of Canning.", which covers equipment needed, storage and cleaning everything as well as the basics of canning jam, pickles, vegetables, even eggs!
There are a couple of farm/ranch life blogs that I dip into on a regular basis - one is The Pioneer Woman, which is blogged by Ree Drummond. Drummond spun her very entertaining blog into a cookbook, and now a Food Network show. She has a section on canning that is just right for beginners, with a strawberry jam project. Strawberry jam is where I got my canning start - it's a good way to learn the basics.
Chickens in the Road is the site of a West Virginia blogger, Suzanne Mcminn. Suzanne moved to a small farm in rural West Virigina several years ago, and write about her adventures with goats, cows, the weather, her garden, and small town life. She has a great online community of like-minded people who share their advice and recipes, and a couple posts give the basics of canning, with lots of pictures and step by step instructions.
A tried and true friend to both farmers and suburban farm types is the local extension service. The UMD Extension Service offers advice on all kinds of topics, and held some classes earlier this year on various aspects of canning and preserving foods. They seem to be planning more classes later in the fall, but I'm not able to find specific dates - check back on their website. In the meantime, they have a nice powerpoint presentation called "Grow it, Eat It, Preserve It", which walks the viewer through the steps of both water bath and pressure canning.
No excuses for next year now!!

anita