Wednesday, November 09, 2011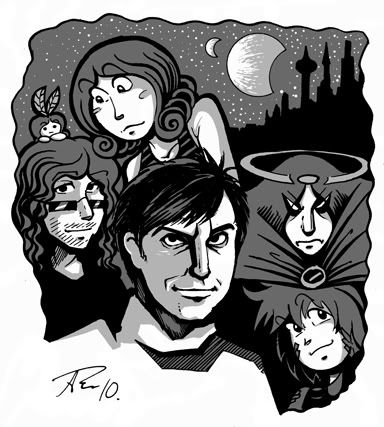 Illustration by Tim Sparvero
A year ago, I wrote a blog about online comics after I attended the Small Press Expo (SPX). This year, I thought I would add more choices to that list. But first I'd like to thank the SPX again for their generous donation of graphic novels to MCPL and congratulate them for initiating a project with the Library of Congress, The Small Press Expo Collection, which will formally archive both the festival itself and many of the comics it annually features. For those that don't know, there are many examples of comic art to be found in the Library of Congress and on their extensive website. The Library's Art Wood Collection of Cartoon and Caricature, alone, contains more than 36,000 original cartoon drawings.
The Library of Congress isn't the only brick and mortar site to have comic collections, by the way. When you are in Columbus, Ohio, check out the Billy Ireland Cartoon Library and Museum, said to be the world's largest and most comprehensive academic research facility, documenting and displaying original and printed comic strips and cartoon art. You can see images from some of the collections by searching the Cartoon Image Database, or by looking at their digital albums. Take a video tour:
If you're in San Francisco, try the Cartoon Art Museum . When in Vermont, go to the Center for Cartoon Studies in White River Junction, where you can take classes and become a cartoonist yourself, or just view works at the Schulz Library. (Yes, named after that Schulz) They have an excellent, informative and exciting blog.

For other comic research libraries in the U.S. and abroad try here and here.
Now, back to comics you can read anywhere you have an internet connection--
This year, SPX gave the Ignatz Award for Outstanding Online Comic to Kate Beaton for Hark! A Vagrant. This strip offers a wonderful range of oddball literary parodies such as Ms. Beaton's take on Wuthering Heights, or her unusual portrayals of historical characters like Ben Franklin and Napoleon. If you can't get online, however, you are in luck, because a book which collects many of the strips plus some new material has been ordered for our library collection.
This year's Ignatz Award for Outstanding Series went to Everything Dies by Box Brown. It's not anywhere near as depressing as it sounds, but certainly thought provoking.

Many online comics deal in social commentary, such as The Knight Life by Keith Knight, which is also syndicated in various newspapers. He also pens (Th)ink, a single panel snapshot of political and current events, and The K Chronicles, a weekly semi-autobiographical strip.

Other online comics including contemporary issues are What Masheka Did, and The Boiling Point by Mikhaela B. Reid.
Some online comics that have a semi-autobiographic element include those by Corinne Mucha, or Lezley Davidson. The latter site plans on having tutorials and marketing advice for budding cartoonists as well as comics to enjoy.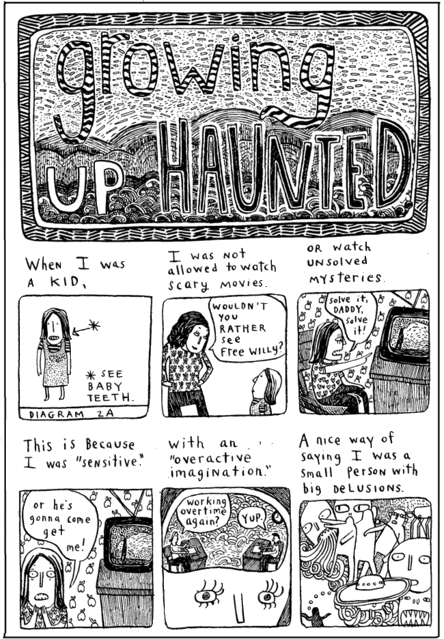 Comic by Corrine Mucha
If you prefer fantasy adventure and science fiction, you might try Lost City Comics by Jonathon Dalton, Supernova Lullabye by Mike Sgier, or Tragic Planet by Joey Weiser. If you want an interesting read inspired by the biblical creation of the universe, try Luci's Letdown by Marjee Chmiel and Sandra Lanz.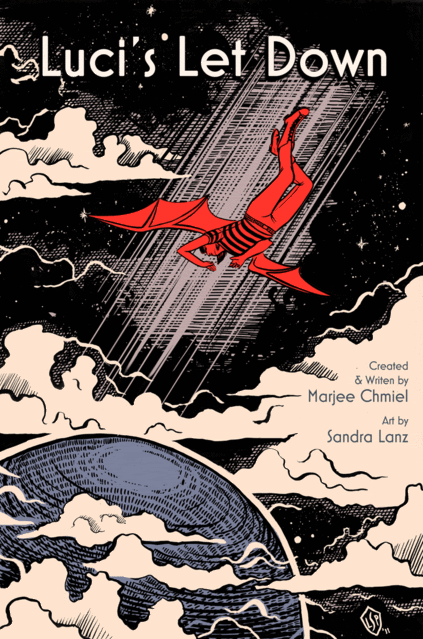 Infinity Roads by Tim Sparvero has a touch of science fiction, another touch of mythology, and some romannce.
"Anthony was a man with the smallest ego in the universe. A man who hid his low self-esteem through long hair, sunglasses, and heavy metal music. All to impress a girl he loved, Miranda. A girl he felt was unreachable,but who he loved more than life itself...A girl he lost when he found out he was a robot."
That might seem strange to you but, believe me, some other fantasy comics are stranger.
For a kid friendly comic, try The Bug Zapper by Tom Eaton. This site allows you to watch cartoons, too.
One of my favoroite children's comics, however, is the Pet Shop Private Eye series by Colleen Venable and Stephanie Yue.
We have the graphic novels in the library, but you can also see previws on Colleen's website, as well as a look at an online comic she used to do called Fluff in Brooklyn, starring a group of stuffed animals.
By the way, did you know that free comics and graphic novels for kids, tweens and teens, like Kid Beowulf can be downloaded to an iPad with a free ap called Comics Jukebox?
Let's end this blog today with a short, kid friendly, movie project by noted picture book artist Mo Willems, who enlisted a multitude of comic artists to help him.
Annette K.
CATEGORIES:
Annette K.
,
Graphic Novels
POSTED AT: 10:40:00 AM |