Wednesday, February 22, 2012
I was lucky enough to get my hands on an advance reading copy of Quiet: The Power of Introverts in a World That Can't Stop Talking by Susan Cain, and I'm going to do it. I'm absolutely going to rave about this book.
Equal parts pro-introvert manifesto and user's guide to the introverts in your life, this book speaks to the strengths of people who need ample time alone to recharge their batteries and be at their best. Cain describes introversion not as a social handicap to be overcome, but as a trait that, when accepted and tended to, can produce extraordinary artists, attuned leaders, and iconoclastic thinkers. She urges teachers and business leaders to rethink in-person group brainstorming sessions (people tend to come up with higher quality ideas on their own) and "clustered" desk arrangements that leave introverts at the mercy of their extroverted colleagues' energy sapping small talk.
Want to find out where you fall on the Introversion-Extroversion scale? Try Type Talk: The 16 Personality Types That Determine How We Live, Love, and Work by Otto Kroeger.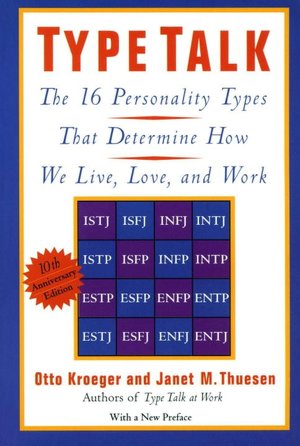 Happy reading!
Ann G.
CATEGORIES:
POSTED AT: 1:54:00 PM |