Wednesday, April 25, 2012
Ever closed a book and felt sad to say goodbye to the characters you have come to love? Yes, and it happened more often as a child, didn't it? Well, now children don't have to say goodbye. There are a wealth of websites that extend the experience of a book, and the life of a character.
One of my favorite children's book characters is the overwrought Pigeon in Mo Willem's picture books such as Don't Let the Pigeon Drive the Bus. You can find the Pigeon here, starring in games, activities and hilarious videos along with Elephant and Piggie and Naked Mole Rat.
On the Random House site you can find The Cat in the Hat, Junie B. Jones, The Berenstain Bears, and more, including Arthur.
Characters with web pages that will appeal to preschoolers include:

Some characters have more than one page, especially if they are a TV star, too. Look for Curious George at PBS and on the Houghton Mifflin Books site. Olivia can be found on her own site and also on the website for Nickelodeon. All these sites provide plenty of things to do.
Older kids might enjoy hanging out with Stanley Yelnats, the hero of Holes. Others might want to know more about Humphrey, the classroom hamster made famous by Betty Birney. Many kids are still interested in Harry Potter, and who can resist George, Harold, and Captain Underpants?
I really enjoyed reading the real life stories behind the creation of Winnie-the-Pooh. They were quite surprising.
For more games, children might like to visit the Childrens Book Characters Quiz on Squidoo, or name the popular children's book characters in a visual quiz on Sporcle. The Roald Dahl site has quizzes and games based on his famous characters such as Charlie and Matilda, and the website for HarperCollins has lots of pages featuring games based on the characters in the books they publish, such as Amelia Bedelia, Fancy Nancy, and the sleepy bunny in Goodnight Moon.
Perhaps, after all this, the children you know might like to dress up as their favorite character or even go on a road trip to see the ducklings in Boston inspired by those in Robert McCloskey's book, Make Way for Ducklings.


Or the statues of Ramona and Ribsy in Portland, Oregon, right out of Beverly Cleary's books.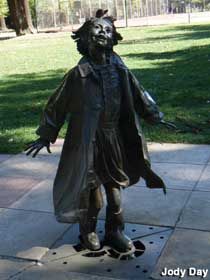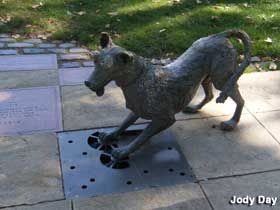 If you have to stay close to home, visit the Eric Carle website and watch the videos of him reading from The Very Hungry Caterpillar and talking about his life and work.
Annette K.
CATEGORIES:
Annette K.
,
Children's Books
,
Characters
POSTED AT: 10:00:00 AM |