Wednesday, December 26, 2012
I recently ran across this article The Daily Routines of Famous Writers by Maria Popova. Just about everyone who enjoys reading thinks about writing at some point. Many of us make resolutions, we are going to write so much every day, or every week, or set aside regularly scheduled time, or similar. Many of us don't get around to establishing or keeping the routines that will keep us writing.
It is worth contemplating how accomplished writers accomplish writing. Popova calls our attention to E. B. White who made the critical observation:

A writer who waits for ideal conditions under which to work will die without putting a word on paper.
Eventually a writer …
… must sit down and get the words on paper, and against great odds. This takes stamina and resolution. Having got them on paper, he must still have the discipline to discard them if they fail to measure up; he must view them with a jaundiced eye and do the whole thing over as many times as is necessary to achieve excellence, or as close to excellence as he can get. This varies from one time to maybe twenty.
Many of the writers Popova quotes have a daily routine that involves physical exercise as well as time spent writing. I got a kick out of
Kerouac
:
I try to do nine touchdowns a day, that is, I stand on my head in the bathroom, on a slipper, and touch the floor nine times with my toe tips, while balanced. This is incidentally more than yoga, it's an athletic feat, I mean imagine calling me 'unbalanced' after that.
Maya Angelou
seems to have found a balance between the solitary work of writing and being more social among other people:
I have kept a hotel room in every town I've ever lived in. I rent a hotel room for a few months, leave my home at six, and try to be at work by six-thirty.
…
I write in the morning and then go home about midday and take a shower, because writing, as you know, is very hard work, so you have to do a double ablution. Then I go out and shop — I'm a serious cook — and pretend to be normal. I play sane — Good morning! Fine, thank you. And you? And I go home. I prepare dinner for myself and if I have houseguests, I do the candles and the pretty music and all that. Then after all the dishes are moved away I read what I wrote that morning. And more often than not if I've done nine pages I may be able to save two and a half or three. That's the cruelest time you know, to really admit that it doesn't work. And to blue pencil it.
We have a number of books in the library on how to write. One recent classic is Steven King's
On Writing
. I'm no great fan of King, but On Writing demonstrates how well Stephen King understands his craft. It makes enjoyable reading, and useful reading for would be writers.
Janet Evanovich has written an excellent and entertaining description of how she puts a story together and gets it written. It is good on lateral thinking and how to put together what you see and hear around you. It is fun to read and specific to her stories, but it could also be used almost as a primer:
How I Write
.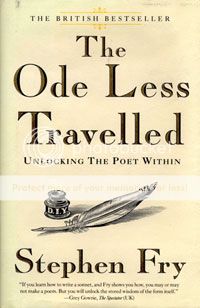 For poets, and would be poets, I highly recommend
The Ode Less Travelled
by Stephen Fry, a man of many accomplishments. It is a lilting and passionate guide to poetry and the varieties of poetry. Near the end of the book Fry says a few words about the process of writing under the heading:
Ten Habits of Successful Poets that They Don't Teach You at Harvard Poetry School, or Chicken Verse for the Soul Is from Mars but You Are What You Read in Just Seven Days or Your Money Back
Of poetic vices Fry says:
Laziness is the worst vice a poet can have.
For more on the craft and process of writing see the earlier post on this blog by Annette K. Tools of the Trade.
Nell M.