Wednesday, September 11, 2013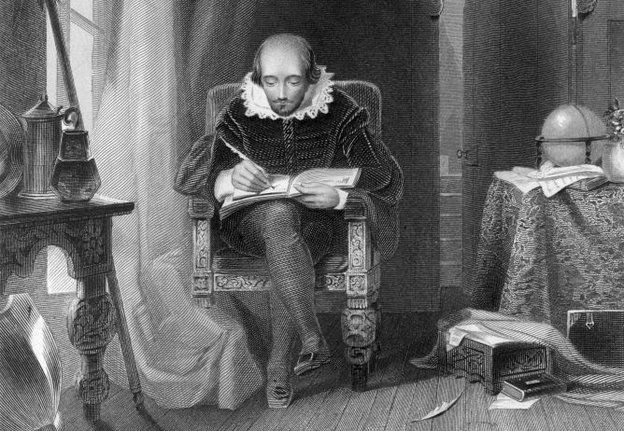 When I was a child, I was fascinated with Shakespeare. (Yes, I suppose I was not an ordinary child.) I remember making up a play based on Romeo and Juliet when I was merely seven years old, enlisting my sister and some neighborhood girls to act it out. I had only read a brief summary in an ancient encyclopedia, and obviously didn't know the full play because, somehow, a witch who lived in the basement got in there; and maybe I'd heard tell of a modern version called West Side Story, because the billiards table in the front room was commandeered as a prop. The stairs made a fine balcony, and I would call out through the banister railings "Romeo, Romeo! Werefore art thou, Romeo?" (Because, of course, I thought that it meant where are you, not who are you.) Then Romeo, in the shape of my younger sister in a pageboy hairdo, would proclaim."Here I am, Juliet. I'm off to kill the wicked witch." I'm sure my mother was dieing laughing in the other room.
I became more familiar with Shakespeare as I made my way through my father's Oxford Book of English Verse, and tackled several yellowing paperback plays left over from his University years. When I was ten, I created a two-person play for my best friend and me to act out in class. I played a girl who is practicing lines from Hamlet, and my best friend comes upon me and thinks I've got mad. She hides behind a curtain and makes shocked comments in sotto voce about what I'm saying. I really don't remember what she said in response to me spouting "Get thee too a nunnery," but our teacher thought it was hilarious and had us present it to the whole school.
I admit that most of the time I had no idea what was going on in the plays, but I struggled through anyway, because of the wonderful strange words. Words like bodikin, drumble, frampold, and gleek. I would read them out loud to relish them and use my imagination to make up what they meant. I was probably totally mispronouncing them. But, you know what? According to a video I just watched, so was everybody else, even famous actors like Sir Laurence Olivier, because the way people spoke back then wasn't like the posh, upper class diction that modern audiences associate with Shakespeare.
According to linguist David Crystal and his son, actor Ben Crystal, the English language in Shakespeare's day sounded more like the pronunciations that survives in British regional dialects and the colonial remnants in American and Australian speech. How do they know? They have reconstructed the Original Pronunciation (OP) by using the spelling of the time, glossaries produced by those contemporary with Shakespeare, and clues to what words should rhyme from the structure of verses. With my Bristolian accent of those days, I was probably closer to the original than Olivier. The Original Pronunciation story has been picked up by newspapers and radio, and more and more OP productions are being staged.
The Original Pronunciation website states:
"The present-day movement to perform works in OP began in 2004, when David Crystal collaborated with Shakespeare's Globe in an OP production of Romeo and Juliet. This was so successful that the following year the Globe mounted a production of Troilus and Cressida in OP. Subsequent interest from American enthusiasts led to OP Shakespeare events in New York, Virginia, and Kansas, ranging from evenings of extracts to full productions. As only a handful of works have so farbeen performed in OP, interest is growing worldwide to explore the insights that the approach can provide."
The performance of plays in OP brings to light rhymes, puns and rhythms that have been missed by modern audiences and scholars. It enriches performances, enhances understanding and, oddly, makes the plays skim by faster. You can listen to examples on-line.
Of course, you can find the complete works of Shakespeare on-line--texts and analysis. But if you prefer to hold a book in your hand, for works on Shakespeare in MCPL, visit the first Dewey decimal number I ever memorized—822.33 There you can find scholarly works as well as the plays and poems themselves. In the children's room you can find some lovely retellings of the stories, none of which contain a billiards table. Also, there are many works of fiction for all ages set in Shakespeare's day. We have movies and sound recordings related to Shakespeare in the library for you to enjoy, but nothing in Original Pronunciation as yet. Give it time.
If you feel like making a field trip to another library, however, visit the Folger Shakespeare Library downtown to enjoy their exhibits or a live performance. I expect they can tell you all you want to know about Original Pronunciation.
Annette K

CATEGORIES:
Annette K.
,
Shakespeare
,
Language
POSTED AT: 11:35:00 AM |