Friday, August 13, 2010
On Friday morning we visited the U.S. Embassy, one of the largest in Latin America. We met with Embassy public affairs officials and briefed them about our trip and goals, and learned of their initiatives and ways they could support some of our goals. After a very helpful meeting at the Embassy, some of us visited the General Assembly where a delegate gave us a tour of some of the major chambers. He explained about his work to locate children that were orphaned during the war and sold into the international adoption black market. We got to ask questions about the current political climate and the numerous parties in the General Assembly. A group then headed to the El Salvador Habitat for Humanity headquarters. They took us to see some of their newest initiatives in building entire communities as well community centers and schools. We traveled to Ahuachapan near the Guatemalan border and Santa Ana and saw firsthand the good work they are doing in partnerships with local leaders. We took the scenic route back to San Salvador stopping briefly in Ataco, considered one of the most picturesque towns in El Salvador. Others in our group went to the artisans market and picked up various samples of arts and crafts from all over El Salvador.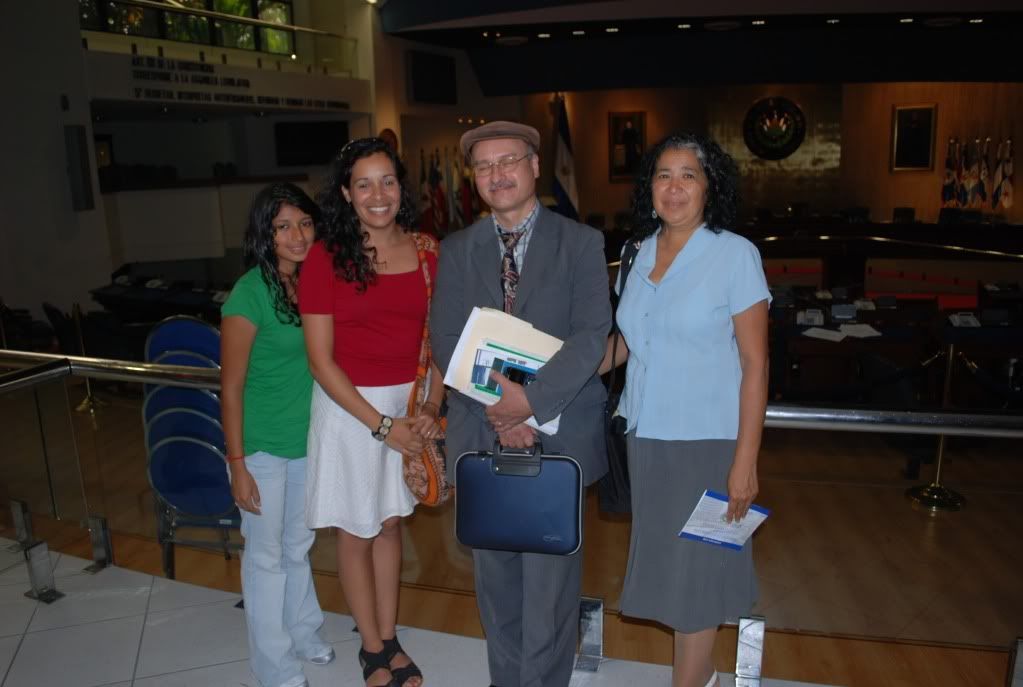 Member of the Assembly Damian Alegria gave us a tour of the National Assembly building.
A Habitat for Humanity community organizer gives us a tour of a project in Santa Ana.
Habitat staff at a community school built by Habitat with Neftali Granados, Gaithersburg businessman and owner of Morazan grocery stores.
Ataco at dusk, a popular tourist destination for both national and international travelers.
CATEGORIES:
Morazan
POSTED AT: 11:00:00 PM |